Spanish for 9-1-1 Dispatch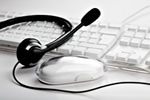 9-1-1 Dispatchers and Telecommunicators are faced daily with the difficult task of communicating with monolingual Spanish speakers over the phone. It is hard enough to communicate a crisis in English. SpanishOnPatrol understands this problem and has designed an exclusive Spanish course specific to 9-1-1 dispatch and telecommunicators needs. The Spanish for 9-1-1 Dispatch course focuses on understanding the nature of the call, collecting information about possible injuries, securing the correct street address, keeping the caller calm, and much more.
Students who complete 15 hours of training and achieve a 70% or higher on the online course assessments will earn 1.5 Continuing Education Units (CEUs) from The University of Georgia. A transcript of your educational activity is available upon request.
Complete Online Access

Learn at your own pace

Start anytime

Open to anyone

6 months unlimited access

24/7 learning
** WARNING ** Public Safety Spanish courses are not appropriate for minors. Students will learn slang and offensive language (including cuss words).
| | | |
| --- | --- | --- |
| | Select a foreign language. Start learning now. | |
| | | |
| | | |